We Can Place Your Advertisement in the Hands of Virtually Every Consumer That Would Buy Your Product!

You can advertise on the exclusive WE Care Re-Usable Shopping Bags, distributed to consumers at selected retailers across America! Your target market will now be provided with all the WE Care Re-Usable Bags they need emblazoned with your advertisement promoting sales for your business, while making it practical and convenient for everyone to go "
green
".

Each re-usable bag can include a full-color glossy
Promo Card
continuing your message, serving as a direct response device, postage-paid post card, special offer or killer deal. Our unique re-usable shopping bags are completely wrapped in full color film lamination; a most powerful, dynamic and far reaching platform commanding constant attention for your message, unrivaled everywhere they go!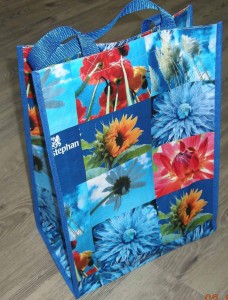 "Infinity Advertising" brings results! This is an amazing medium for you to reach consumers repeatedly at their in-store point-of-purchase, while providing your message with on-going exposure as the bags travel with our highly mobile and commuting public. They become "walking billboards"! These re-usable bags are not only used when shopping, but also in the home, workplace and recreation venues because of their functionality and durability, delivering lasting interaction between your message and all the consumers in these multiple environments. And the versatility of the Promo Card as a reply device (or however you choose to use it) is absolutely incredible!

The Word-of-Mouth generated will be unsurpassed as the commitments to environmental sustainability by consumers, legislatures and businesses alike are far beyond being a trend or movement. Replacing plastic bags, or "urban tumbleweeds", has fast become a way of life. The medium itself conveys a powerful and positive message today's consumers truly respond to.

Media Coverage! The additional media coverage that will follow as the bags are implemented will add countless miles to the depth and breadth of your message.

"Paper, Plastic or Re-Usable?" This phrase is now heard with increasing regularity by consumers as they check-out at grocery stores and retailers throughout the nation. The choice is a no-brainer. Some cities and stores have already banned the harmful throw-away bags. With several grocers eliminating plastic bags altogether, and cities like San Francisco,  LA and Seattle legislating away the same, re-usable bags are now a global initiative. Stores are even charging the consumer for every paper and plastic bag they use and many give credits for each re-usable bag brought in! Consumers get it! They care about our environment. It's simply a matter of convenience, cost and sacrifice. No longer do consumers have to buy their re-usable bags. We simply give the WE Care re-usable bags away right at check-out.

Bags-N-Tags:

All bags can also include a full color glossy Promo Card affixed to the handles continuing your message, serving as a direct response device, postage paid postcard, a special offer or killer deal.

Dimensions of the standard Re-Usable Shopping Bag with fireproof coating are 16" height X 12" width X 7" base or approximate. Customized sizes and styles are available.

Distribution can be scheduled for a 1 week to 3 month duration.

50% of gross contract is due in advance. Balance is due upon verification of delivery to all scheduled retailers unless otherwise agreed on contract. Prices are subject to change prior to contract.

Controlled audit of distribution is provided, verifying delivery to all retailers and service providers.

"Giving Green" means getting more bags for your buck! See the "Businesses Giving Green" info tab to get the exciting details on advertising available.